Plans to visit Prague ?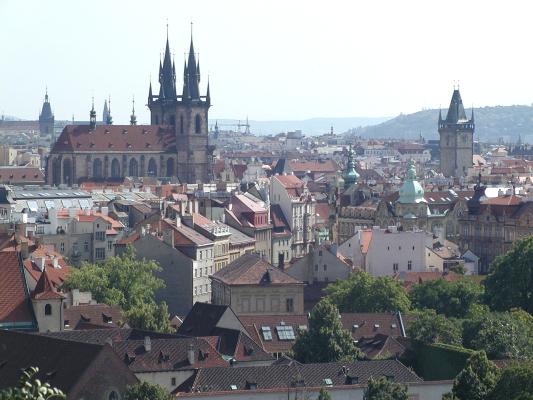 View of Prague's Old Town: The Tyn Church at the left, the Townhall Tower at the right
Prague, the capital of the Czech Republic and a UNESCO Listed City is known as veritable treasury of the arts and architecture. It has in its historical centre over 1700 cultural monuments of immense value, hundreds of ancient houses, palaces and churches, old lanes and beautiful gardens. It is rightly regarded as a most beautiful city in the world.
If you need assistance with arranging your pre/post-conference stay (accommodation, etc.) in Prague, please contact the Conference Secretariat. For those interested, accommodation at amicable rates in quality Prague hotels has been arranged. The accommodation, but also city tours and other optional services can be booked with the Conference Secretariat.
More information about Prague….

Prague, one of the most beautiful cities in the world, is situated in the very heart of Europe on the Vltava (Moldau) River. From the time of its foundation in the 10th century it has been the residence of Bohemian princes, kings and Holy Roman emperors. Now with a population of 1.2 million it is the capital of the Czech Republic. Prague has a pictoresque location. Visitors to Prague can enjoy exceptional views of the city from atop one of the hills on which the city center is built, or from the banks of the Vltava River, with its islands and bridges.

The true beauty of Prague lies in its architectural variety. For that reason Prague is –justifiably– called an "architectural" pearl. A unique abundance of monuments from Prague's famous past have been preserved: churches, palaces and monasteries, built in Romanesque, Gothic, Renaissance and Baroque, Classical and Art Nouveau styles.

Musical life in Prague has a deeply rooted tradition. Prague is linked with the names of the two greatest Czech composers, Antonin Dvorak and Bedrich Smetana, and also with Mozart who premiered his opera Don Giovani at the Estates Theatre in Prague.

For more information we suggest the websites

http://www.czechsite.com

and

http://www.czech.cz