The TAT 2023 will be held in two Czech cities:
in Prague at Charles University, Prague on the first two days, on 27th and 28th June at Charles University (Celetná 20, Prague)
in Brno at Masaryk University on 30th June and 1st July
Venue in Prague
Information about Prague
Prague is one of the oldest political, economic and cultural centres of Central Europe. It is the capital as well as the largest city in the Czech Republic with more than 1,270,000 inhabitants. Importance of Prague is reflected in the level of its architecture and living art, quality of life, degree of development of learning, and its cultural significance and reach.
It is one of the world's most beautiful and monumental cities. It is known as the city of a hundred spires because of its profusion of grand, beautifully-preserved historical monuments from practically every period in history. Those spires are best admired from the Prague Castle, the dominant of Prague and the most significant Czech monument, as well as from the bridges that cross the Vltava River meandering through the city…
Prague is a display of all artistic styles and movements. In 1992 the historical core of the city covering 866 hectares was listed in the UNESCO World Cultural and Natural Heritage Register.
Accommodation
You can find several options on Booking or AirBnB.
How to get to Prague
Prague is accessible from several cities by trains, buses and airplane.
Prague Airport to City by Public Transport
The connection between Václav Havel Airport Prague and Prague city centre is provided by public transport bus lines which operate at regular few-minute intervals. Bus stops are located directly in front of terminals.
To get to Prague city centre the fastest by public transport, we recommend taking the 119 bus (Terminal 1/Terminal 2 – Veleslavín train station) and changing to metro Line A.
Public transport bus rides are subject to regular Prague Public Transport Fares (including pre-paid passes). Bus rides do not need to be booked in advance. The passengers must buy a ticket before onboarding. Prague Airport is not the provider of the service.

For more information see this page.
Prague Main Train Station
The railway station is located in the city center near Wenceslas Square on the border of three city districts (New Town, Vinohrady, and Žižkov). It is directly accessible from metro line C – Hlavní nádraží station and tram: 5, 9, 15, 26.
Prague Public Transport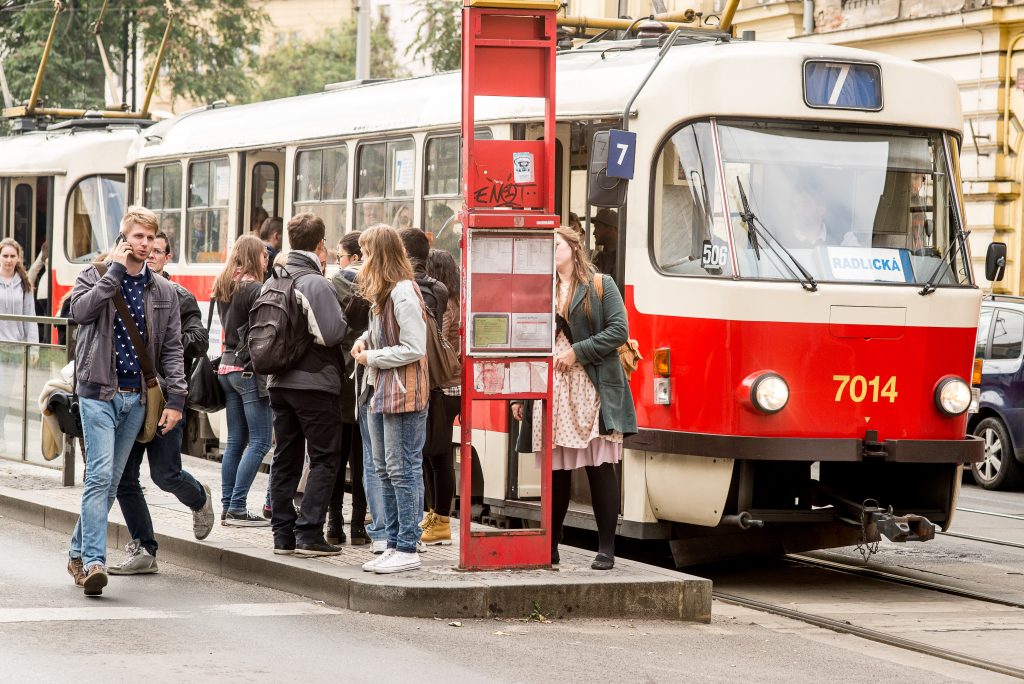 Prague offers an excellent public transport system with its underground and numerous bus and tram lines. The metro is the quickest way to travel long distances across the city. It has three lines: A (green), B (yellow) and C (red). It closes down for the night shortly after midnight and reopens after 4 a. m. Trams and buses connect the metro system to outlying areas, and are also a handy way to make short journeys in the city centre. The most efficient form of night transport is the network of night trams that runs from about midnight until the metro reopens. Night trams run very precisely in 30-minute intervals.
Individual tickets are available at most tobacconists and newsstands. There are also ticket vending machines installed in all metro stations and at selected surface transit stops. Single transfer ticket can be also purchased as an SMS ticket via a mobile phone. Single tickets cost CZK 30 and CZK 40. The CZK 30 tickets are valid for 30 minutes and CZK 40 tickets for 90 minutes of unlimited travel. It is possible to change between trams, buses, the metro and trains (in area of Prague) without having to buy a new ticket until the time period runs out. There is also a 24-hour ticket for 120 CZK or a 72-hour ticket for 330 CZK.
More information about tickets are available here or here.
Download a large printable map of the Prague subway and tram system here.
The personal transit to the airport is provided by buses 119 and 100 and by the special bus AE (Airport Express)
For more infromation see this page.
Venue in Brno
Information about Brno
Brno is the historical capital and cultural hub of Moravia region. It is also an important center of higher education. There are 13 universities based in the city, including Masaryk University (MUNI) which belongs among highest-ranked universities in Czech Republic. With around 380,000 inhabitants, the city is also home to up to 80,000 university students during the academic year. An impressive 23 percent of the city's students are international; thus, the city has a strong international outlook. MUNI is the largest local university with over 30,000 students. Highly regarded Quacquarelli Symonds (QS) ranked Brno as one of the top ten best student cities in the world.
Brno is also part of a well-known wine region, and you will find a number of wine bars offering local Moravian wines and other Czech and international options.
Brno thrives and prospers not only because of the local students but also because of the local companies. The good location, city support and the presence of universities attracted top IT companies which offer attractive work options to students and work with Masaryk University on supervising students' degree theses. And if you would prefer to run your own business, you can find support for your innovative ideas in Brno too. The South Moravian Innovation Centre has been supporting start-up companies for 16 years.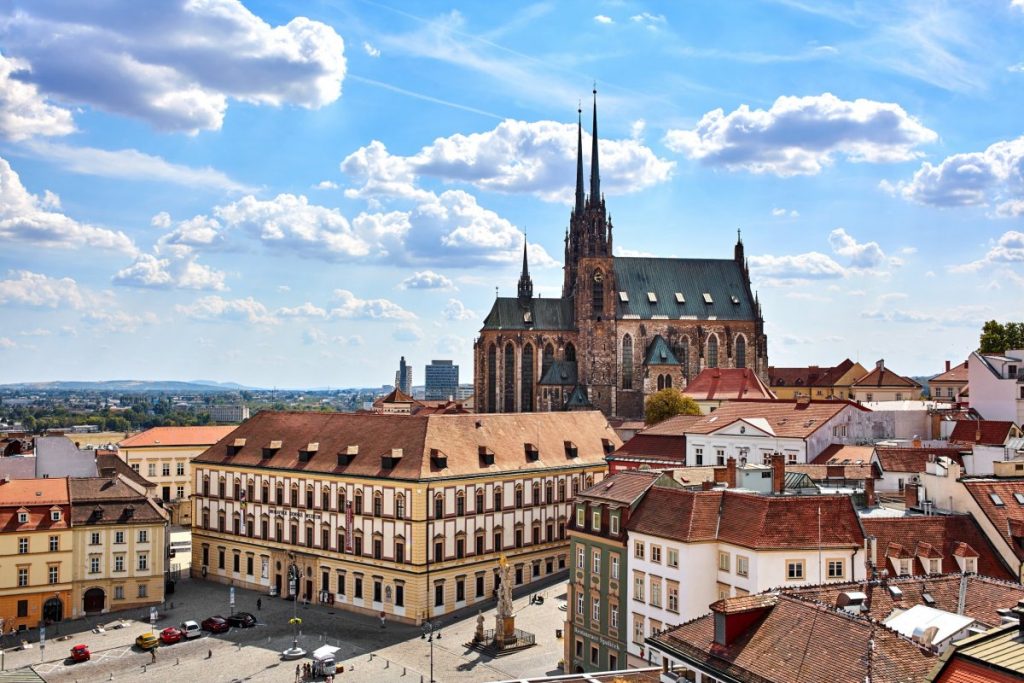 How to get to Brno
An easy way to get to Brno from Prague is by bus or train.
Find the details at our web pages. A general website about the transport connection within the Czech Republic is accessible at https://www.idos.cz, find information there about all connections from Prague to Brno or see our guidelines at https://czs.muni.cz/en/student-from-abroad/international-student-guide/how-to-get-to-brno
To get to Brno from Prague by public transport, we recommend taking train from Prague Main train station to Brno Main train station or the bus from Prague Florence bus station to Brno Grand hotel station.
Brno Public transport
In Brno the most popular public transport is tram. Tram has a great connection throughout the whole city. The tram stop next to Faculty of Science Masaryk University is called Konečného náměstí. The direct tram line from Brno Main station to Konečného náměstí is number 12. Another alternatives are by trolley bus or shared city bikes.
Accommodation
You can find several options on Booking or AirBnB.
Some of the possibilities are:
BARCELÓ BRNO PALACE *****
Address: Šilingrovo náměstí 2, Brno
Reservation:
e-mail: brnopalace.res@barcelo.com
tel.: 532 156 711
https://www.barcelo.com/cs-cz/barcelo-brno-palace/
COURTYARD BY MARRIOTT ****
Address: Holandská 12, 639 00 Brno
Reservation:
e-mail: brno.reservations@courtyard.com
tel.: +420 515 515 519
https://www.marriott.com/en-us/hotels/brqcy-courtyard-brno/overview/
INTERNATIONAL BRNO ****
Address: Husova 16, 602 00 Brno
Reservation:
e-mail: reservation@hotelinternational.cz
tel.: +420 542 122 111
https://www.hotelinternational.cz/en/
HOTEL CONTINENTAL ****
Address: Kounicova 6, 602 00 Brno
Reservation:
e-mail: info@continentalbrno.cz
tel.: +420 541 519 516
https://www.continentalbrno.cz/cz