General Information
Vienna is one of the world's most popular conference destinations, one of the sites of the United Nations, an international music capital and a junction for European business and culture.
In Vienna, the Imperial City, you can walk in the footsteps of the Habsburgs, visit the splendid baroque Palace Schönbrunn and the Spanish Riding School, or stroll along the magnificent Ring Boulevard – in 2015, Vienna celebrates the 150th birthday of the Ringstrasse – and take a look at the heart of the former vast Habsburg Empire, the Imperial Palace. In Vienna, the Metropolis of Music, you can strike the right note at first-rate concerts and enjoy an unrivalled selection of music - from opera to musical.
More famous composers have lived here than in any other city – in Vienna, music is literally in the air: waltzes and operettas have their home here, and so do musicals "made in Vienna", which have conquered international audiences.
In the capital of coffeehouse culture, you can enjoy a golden Mélange and Apfelstrudel in one of the famous Vienna coffeehouses, second home to artists and thinkers such as Arthur Schnitzler, Gustav Klimt, Adolf Loos and even Leon Trotsky.
Note that the Mercer Survey once again in 2015 ranked Vienna as number one for quality of life. Click here for the news article (in German, 4 March 2015).
Venue and Travel
The LuWQ2015 conference will be held in the building of the University of Natural Resources and Life Sciences (Universität für Bodenkultur Wien – BOKU).
The University of Natural Resources and Life Sciences, the Alma Mater Viridis, perceives itself as a teaching and research center for renewable resources, which are necessary for human life. It is BOKU's objective to help make a considerable contribution to the conservation and protection of resources for future generations by providing diversity in its fields of study. Connecting natural sciences, engineering and economic sciences, we wish to increase knowledge of the ecologically and economically sustainable use of natural resources, to provide a harmoniously cultivated landscape.
This is the building where the conference organiser is located:
Institute of Hydraulics and Rural Water Management (IHLW)
Muthgasse 18
A-1190 Vienna
Austria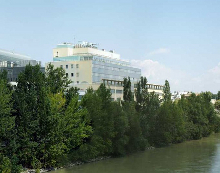 The IHLW focuses on research of the water cycle where water interacts with soil. The aim is to optimize the sustainable use of the resources water and soil.
For location of the venue "Muthgasse 18, Vienna" CLICK HERE
For map of underground lines in Vienna, e.g. line U4 (green line), and for the City Airport Train (CAT) connection from the airport, CLICK HERE.
The BOKU building "Muthgasse 18" is located in the vicinity (about 8 minutes walk) from the Heiligenstadt station of the underground line U4. Heiligenstadt is the terminus (end station) of this U4 line (green line).
Most of you will probably travel to the conference venue (BOKU university, Muthgasse 18) by the underground line U4. From the U4 station Heiligenstadt, you will have to walk about 8 minutes.
To DOWNLOAD the MAP for your walk from Heiligenstadt to BOKU, CLICK HERE