Cena Vojtěcha Jarošíka za rok 2021
V roce 2021, navzdory vrcholící koronavirové pandemii, vyšla celá řada kvalitních prací, které jejich autoři a autorky přihlásili do soutěže o Cenu Vojtěch Jarošíka za vynikající studentskou publikaci v oboru ekologie. Vybrat ty, kdo si zaslouží ocenění, tedy byl – jako už tradičně – pro hodnotitele náročný úkol.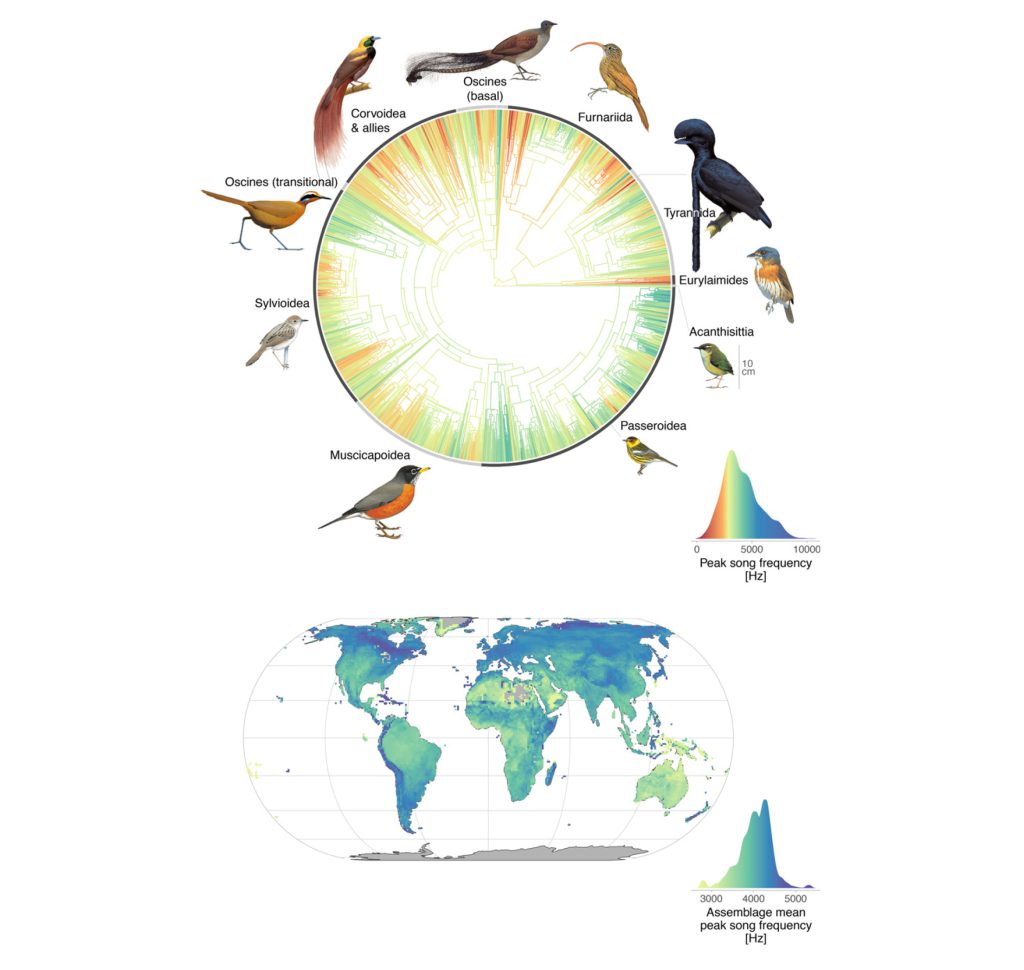 V osmém ročníku soutěže se sešlo sedmnáct prvoautorských publikací studentů nebo nedávných absolventů, jež vyšly v mezinárodních recenzovaných časopisech v kalendářním roce 2021. Bylo to o jednu méně než loni, ale kvalitou letošní ročník rozhodně nezůstal pozadu. Mezi autory a autorkami prací převažovali muži nad ženami (v poměru 10:6, jeden autor přihlásil články dva). Nejčastější institucí, jejíž afiliaci vykazovali, byla přesně u poloviny autorů Jihočeská univerzita v Českých Budějovicích (7× se jednalo o Přírodovědeckou fakultu, často ve společně afiliaci s Biologickým centrem AV ČR, jedna práce byla z Fakulty rybářství a ochrany vod ve Vodňanech). Čtyři práce přišly z Přírodovědecké fakulty Univerzity Karlovy, dvě z Ústavu botaniky a zoologie Masarykovy univerzity, po jedné byly zastoupeny Česká zemědělská univerzita a v historii ceny poprvé Univerzita Pardubice.
Přihlášené publikace posoudilo dvanáct hodnotitelů složených ze zástupců České společnosti pro ekologii a katedry ekologie PřF UK. Každý z nich měl za úkol vybrat tři práce na základě jejich originality a příspěvku k ekologickému poznání. Do užšího výběru se dostala více než polovina prací, ale nakonec se do popředí pomyslného pelotonu prodraly čtyři z nich.
Na prvním místě se jednoznačně umístila rozsáhlá analýza variability ptačího zpěvu "A global analysis of song frequency in passerines provides no support for the acoustic adaptation hypothesis but suggests a role for sexual selection" od Petera Mikuly, absolventa katedry zoologie Přírodovědecké fakulty Univerzity Karlovy, publikovaná v Ecology Letters.
Na druhém místě byla makroekologická práce Elišky Bohdalkové z katedry ekologie PřF UK a Centra pro teoretická studia UK a AV ČR, publikovaná v Ecography pod názvem "Universality in biodiversity patterns: variation in species–temperature and species–productivity relationships reveals a prominent role of productivity in diversity gradients".
Poslední dvě oceněné práce sdílely shodný počet bodů. Jednou byl teoretický model "Community structure and collapses in multichannel food webs: Role of consumer body sizes and mesohabitat productivities" od Samuela Dijouxe z Přírodovědecké fakulty Jihočeské Univerzity v Českých Budějovicích a Biologického centra AV ČR, publikovaný stejně jako vítězná práce v Ecology Letters. Tato publikace již úspěšně reprezentovala českou vědu i na mezinárodním poli, zvítězila ve čtvrtém ročníku soutěže SIL Student Competition, již pořádá Mezinárodní limnologická společnost (SIL).
Poslední oceněná práce "Reproductive senescence in a short-lived fish" od Jakuba Žáka z katedry zoologie PřF UK a brněnského Ústavu biologie obratlovců AV ČR vyšla v Journal of Animal Ecology. Na rozdíl od výše uvedených obecnějších prací se jednalo studii zaměřenou na jeden konkrétní druh, afrického halančíka tyrkysového, v kontrolovaných podmínkách.
Všichni ocenění budou pozváni jako zvaní přednášející na konferenci České společnosti pro ekologii, která se bude konat už v polovině září letošního roku, a o jejich výzkumu se dočteme blíže v bulletinu ČSPE.
V příštím roce (do konce dubna 2023) bude možno přihlásit do soutěže o Cenu Vojtěcha Jarošíka studentské prvoautorské publikace vyšlé ve finální podobě během r. 2022. Budeme se těšit na další dávku kvalitních publikací z českých, moravských i slezských kampusů!
---
Nejlépe hodnocené publikace nominované na Cenu Vojtěcha Jarošíka za r. 2021
1. Mikula P., Valcu M., Brumm H., Bulla M., Forstmeier W., Petrusková T., Kempenaers B., Albrecht T. (2021): A global analysis of song frequency in passerines provides no support for the acoustic adaptation hypothesis but suggests a role for sexual selection. Ecology Letters, 24: 477–486. doi: 10.1111/ele.13662
2. Bohdalková E., Toszogyova A., Šímová I., Storch D. (2021): Universality in biodiversity patterns: variation in species–temperature and species–productivity relationships reveals a prominent role of productivity in diversity gradients. Ecography, 44: 1366-1378. doi: 10.1111/ecog.05613
3. –4. Dijoux S., Boukal D. (2021): Community structure and collapses in multichannel food webs: Role of consumer body sizes and mesohabitat productivities. Ecology Letters, 24: 1607-1618. doi: 10.1111/ele.13772
3. –4.    Žák J., Reichard. M. (2021): Reproductive senescence in a short-lived fish. Journal of Animal Ecology, 90: 492-502. doi: 10.1111/1365-2656.13382
---
ostatní přihlášené práce (seřazené abecedně dle autorů):
Akmal S.G., Santoso A., Yuliana E., Patoka J. (2021): Redclaw crayfish (Cherax quadricarinatus): spatial distribution and dispersal pattern in Java, Indonesia. Knowledge & Management of Aquatic Ecosystems, 422: 16. doi: 10.1051/kmae/2021015
Ambrožová L., Sládeček F. X. J., Zítek T., Perlík M., Kozel P., Jirků M., Čížek L. (2021): Lasting decrease in functionality and richness: Effects of ivermectin use on dung beetle communities. Agriculture, Ecosystems & Environment, 321: 107634. doi: 10.1016/j.agee.2021.107634
Coufal R., Ryelandt J., Peterka T., Dítě D., Hájková P., Hájek M., Horsáková V., Horsák M. (2021): Land snail community patterns related to regional habitat conservation status of European spring fens. Science of The Total Environment, 783: 146910. doi: 10.1016/j.scitotenv.2021.146910
Harazim M., Piálek L., Pikula J., Seidlová V., Zukal J., Bachorec E., Bartonička T., Kokurewicz T., Martínková N. (2021): Associating physiological functions with genomic variability in hibernating bats. Evolutionary Ecology, 35: 291-308. doi: 10.1007/s10682-020-10096
Kik A., Adamec M., Aikhenvald A. Y., Bajzekova J., Baro N., Bowern C., Colwell R. K., Drozd P., Duda P., Ibalim S., Jorge L. R., Mogina J., Ruli B., Sam K., Sarvasy H., Saulei S., Weiblen G. D., Zrzavy J., Novotny V. (2021): Language and ethnobiological skills decline precipitously in Papua New Guinea, the world's most linguistically diverse nation. Proceedings of the National Academy of Sciences of the United States of America, 118: e2100096118. doi: 10.1073/pnas.2100096118
Kolar V., Tichanek F., Tropek R. (2021): Evidence-based restoration of freshwater biodiversity after mining: Experience from Central European spoil heaps. Journal of Applied Ecology, 58: 1921-1932. doi: 10.1111/1365-2664.13956
Konopáčová E., Nedoma J., Čapková K., Čapek P., Znachor P., Pouzar M., Říha M., Řeháková K. (2021): Low specific phosphorus uptake affinity of epilithon in three oligo- to mesotrophic post-mining lakes. Frontiers in Microbiology, 12: 735498. doi: 10.3389/fmicb.2021.735498
Kozel P., Sebek P., Platek M., Benes J., Zapletal M., Dvorsky M., Lanta V., Dolezal J., Bace R., Zbuzek B., Cizek, L. (2021): Connectivity and succession of open structures as a key to sustaining light-demanding biodiversity in deciduous forests. Journal of Applied Ecology, 58: 2951–2961. doi: 10.1111/1365-2664.14019
Novotná Jaroměřská T., Trubač J., Zawierucha K., Vondrovicová L., Devetter M., Žárský J.D. (2021): Stable isotopic composition of top consumers in Arctic cryoconite holes: revealing divergent roles in a supraglacial trophic network. Biogeosciences, 18: 1543−1557. doi: 10.5194/bg-18-1543-202
Sarkar U.K., Roy K., Karnatak G., Naskar M., Puthiyottil M., Baksi S., Lianthuamluaia L., Kumari S., Ghosh B.D., Das B.K. (2021): Reproductive environment of the decreasing Indian river shad in Asian inland waters: disentangling the climate change and indiscriminative fishing threats. Environmental Science and Pollution Research, 28: 30207–30218. doi: 10.1007/s11356-021-12852-7
Vejmělka F., Okrouhlík J., Lövy M., Šaffa G., Nevo E., Bennett N.C., Šumbera R. (2021): Heat dissipation in subterranean rodents: The role of body region and social organization. Scientific Reports 11: 2029. doi: 10.1038/s41598-021-81404-3
Zahra S., Novotny V., Fayle T.M. (2021): Do reverse Janzen-Connell effects reduce species diversity? Trends in Ecology & Evolution 36: 387-390. doi: 10.1016/j.tree.2021.02.002
Žák J., Vrtílek M., Polačik M., Blažek R., Reichard M. (2021): Short-lived fishes: annual and multivoltine strategies. Fish and Fisheries 22: 546–561. doi: 10.1111/faf.12535